Elder. David and his wife Janet have lived in Fort Walton Beach since 1980. They have two children, Mark and Meredith, and five grandchildren, Nolan, Mason, Sophia, Ezra, and Ava.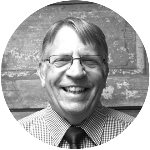 Elder since 1998. Husband to Nancy and father to Chris and Mike. Air Force vet, and IT consultant. Likes flying his Cessna to transport rescued pets and any willing humans.
Elder. Michael and his wife, Toni, have lived in FWB since 1977. They have a daughter, Erin, who lives in Birmingham Alabama.