Elder. David and his wife Janet have lived in Fort Walton Beach since 1980. They have two children, Mark and Meredith, and five grandchildren, Nolan, Mason, Sophia, Ezra, and Ava.
Elder. Michael and his wife, Toni, have lived in FWB since 1977. They have a daughter, Erin, who lives in Birmingham Alabama..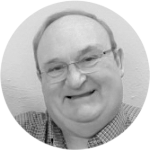 Elder, husband to Patty and father of two. Active in this congregation since 2021. Air Force Vet and semi retired Real Estate Broker. Loves to read and spend time with family, including church family!